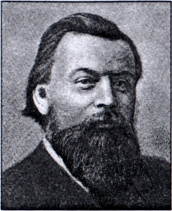 Biographical summary :
Born on June 1st 1850 on the domain of Nehatu in Estonia.
Studied at the Nicolai-Gymnasium in Tallinn, where his art teacher, Albert Sprengel, discovered his talent for painting.

As of 1868, studied painting at the Academy of Arts in Düsseldorf, Germany.

Founded his own studio in Düsseldorf in 1871.
Married Emilie Poensgen in 1877.

In 1893, became a member of the Academy of Arts of Berlin.

Received the title of professor from the Academy of Arts in Düsseldorf.

Died on February 12 1930 in Hösel, near Düsseldorf.

The painter Gregor von Bochmann (1850 - 1930)
Documentation: Museums, exhibitions, journals, newspapers and private collections (in German)
Other links (mostly in German)
I am in the process of updating this work catalogue of the painter Malers Gregor von Bochmann. I would appreciate any indications about the works of the artists. Please send any information, as well as a photo, if possible, to bochmann@uottawa.ca . (I am the great-grandson of the painter).
Gregor v. Bochmann , computer scientist
Thanks to: Frédéric von Bochmann (for technical consulting), Kaidi Loo (for the estonian translation), and Friedrich Hübner (for the russian translation).
Web site established in 1999; new version 2017; last update: January 2021