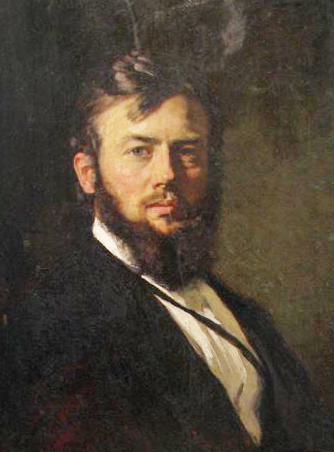 Biographical overview :
Born May 29, 1848 in Westerschnatebüll near Niebüll in Schleswig-Hostein (Gemany).
1868, begins his studies at the Academy of Arts in Düsseldorf.
1871, moves with some friends to the Art School in Weimar.
Travelled to Poland (1873) and Italy (1877).
1879, married Margarethe Hansen from the Hof Gottesberg on the Kleiseerkoog near Niebüll.
1880, moved from Bad Kreuznach to Düsseldorf; then in 1885, settled down on the Hof "Weljtofrese" (I am happy here), near the Hof Gottesberg, today called "Feddersenhof".
Lost his wife Margarethe on March 13, 1908; on August 29, 1909, married Sophie Lorenzen.
Died on December 13, 1941 at his Hof "Weljtofrese".
The painter Hans Peter Feddersen (1848 - 1941)
Biographical data (in german) assembled by Hans-Jürgen Stubbe
Further options
Diese Sammlung von Informationen über den Maler Hans Peter Feddersen wurde zusammengestellt in Zusammenarbeit mit Ethe Stubbe, Bärbel Manitz und Berend Harke Gloyer. Das Anliegen dieser Sammlung ist das existierende Bildmaterial allgemein zugänglich zu machen. Das hier enthaltene Werkverzeichnis ist basiert auf dem Gemäldeverzeichnis von Ethe und Hans-Jürgen Stubbe, das in dem Buch "Der Maler Hans Peter Feddersen" 1966 erschienen ist. Die Informationen aus dem Werkverzeichnis sind hier verbunden mit Abbildungen aus verschiedenen Quellen, soweit welche zu finden waren. Das Werkverzeichnis wurde in den letzten Jahren erweitert mit Bildern des Malers, die im Laufe der Zeit zum Vorschein kamen.
Für jegliche Hinweise über weitere Abbildungen der Werke des Malers wäre ich Ihnen sehr dankbar. Bitte senden sie mir eine Nachricht als e-mail (ich bin ein Urenkel des Malers) oder an Bärbel Manitz (e-mail - Postadresse: Hansastrsse 20, 24118 Kiel).
Gregor v.Bochmann
<bochmann@uottawa.ca>
The first version of this web site was established in 2009; last update: June 2018